"A picture fit for the gods" Postcards from British Columbia, Canada
The early twentieth-century postcards on display here show picturesque scenes from around British Columbia. The way landscapes are framed in these postcards can be traced back to appreciations of Lake District scenery in the late eighteenth century through to the idea of Wordsworth Country developed in the nineteenth century.
Just as the settling of Canadian wilderness represented a triumph of imperial power, the postcard exemplifies a parallel set of technical achievements. Photography, printing and mass production, expansion and speed of the postal service were all essential to the success of the postcard. Together with the expansion of empire, these advances symbolized the achievements of the Victorian age.
Valentine and Sons from Scotland was one of the most successful commercial photography companies in the nineteenth century. In the second half of the nineteenth century, the company specialized in the tourist industry, producing iconic views of Britain, including the Lake District. They went into the postcard business in 1898 and opened offices in Canada in 1903. 
"Arrowhead, B.C., from C.P.R. Steamer." Published by Valentine & Sons, Montreal and Toronto. [ca. 1910].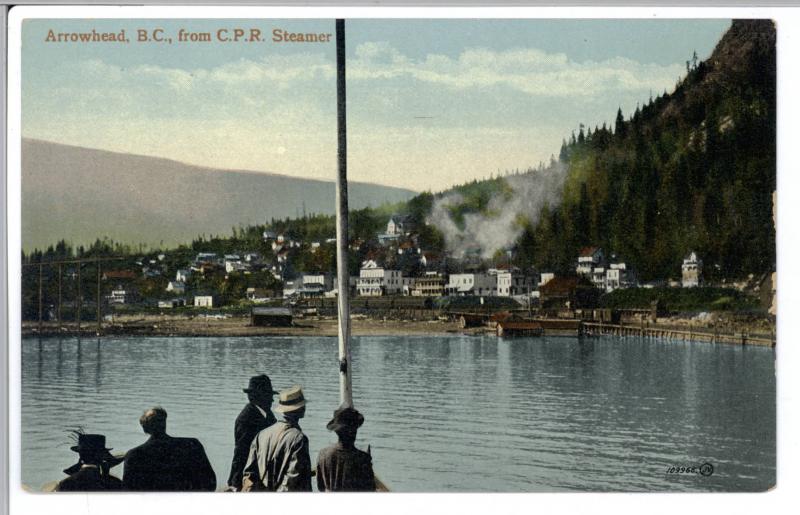 Scenic Moyie and Windermere are two of nine lakes in the East Kootenay ecosystem of South Eastern British Columbia.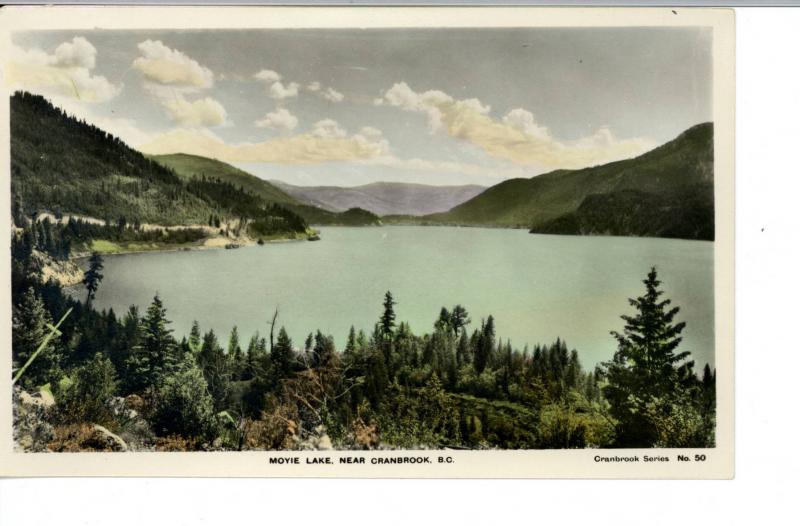 ​
Moyie Lake, near Cranbrook, B.C. Hand-coloured photograph by J. Fred Spalding printed in England. Published by Camera Products Co., Vancouver, B.C. no date.
​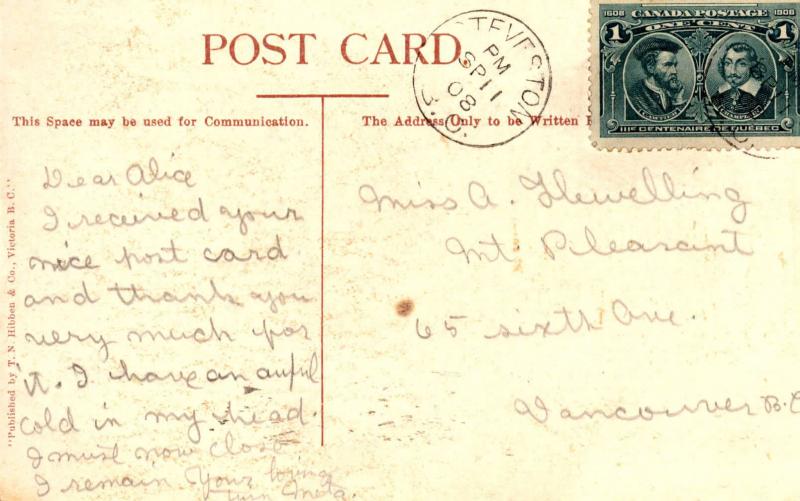 Moyie, British Columbia, From Lake Shore Mine. Published by T.N.
Hibben & Co., Victoria, B.C. 1908. 
The inscription reads:
Dear Alice, I received your nice post card and thank you very much…I must now close. I remain your loving twin."
Addressed to Mt. Pleasant neighbourhood in Vancouver.
"Bush fires on Burrard Inlet Vancouver, B.C." Publisher: Clarke & Stuart,1906.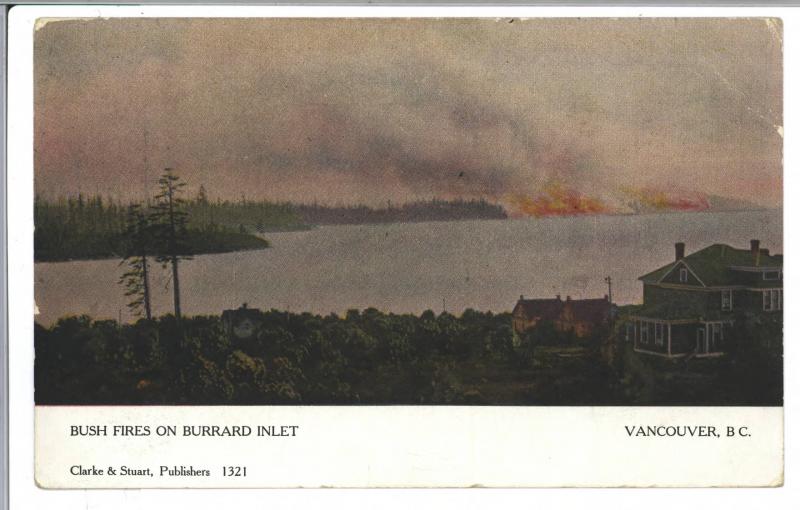 Reproduced from pencil drawing by British Columbia artist Edward Goodall (1909-1982). Published by Bulman Bros. Vancouver, B.C.
"One of the finest views on [Vancouver] Island, looking through the window of the Malahat Chalet."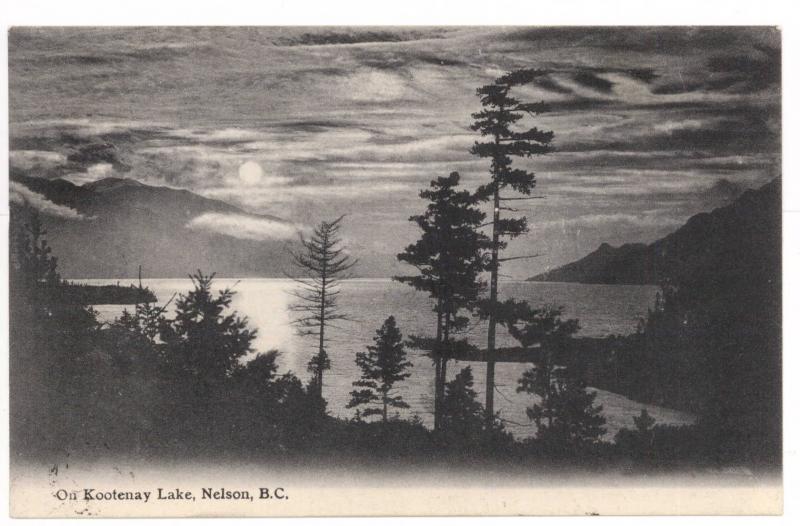 "On Kootenay Lake, Nelson, B.C." Published by W.G. Thomson, Nelson, B.C. 1907.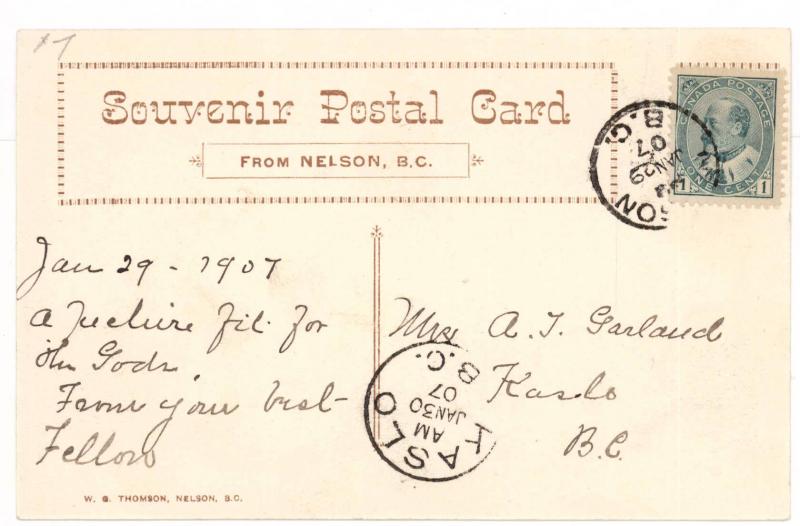 Inscribed on the back:  "A picture fit for the gods."